Top Stories of Last Week
Regulatory
Congress infrastructure bill proposed to raise $28 billion from crypto investors by applying new information reporting requirements to exchanges and other parties. Any broker that transfers digital assets would need to file return under modified information reporting regime, with decentralized exchanges and peer-to-peer marketplaces included in definition of brokers.
Sen. Elizabeth Warren urged Financial Stability Oversight Council to form regulatory strategy to "mitigate the growing risks that cryptocurrencies pose to the financial system" in open letter to Treasury Secretary Janet Yellen. Warren cited risks posed to banks by volatile crypto prices, "unique threats" posed by stablecoins, emergence of DeFi and anonymity and rise of crypto-enabled cyber attacks.
U.S. Department of Justice

 

reportedly considering federal investigation into Tether, probing whether executives behind Tether committed bank fraud during nascent stages of cryptocurrency business in "potential" criminal case. Prosecutors specifically focused on if executives hid nature of cryptocurrency transactions from banks. Tether called story "repackaging of stale claims" based on unnamed sources and old allegations.
Project Development
PayPal CEO Dan Schulman said initial version of company's super app wallet was "code complete" during PayPal's Q2 2021 investor update call. Company plans for wallet to be fully ramped in US in next several months and will feature high yield savings, early access to direct deposit funds, messaging capability, "additional crypto capabilities," and more.
Institutional
State Street to offer crypto and digital asset fund administration services to private fund clients in partnership with software provider Lukka, offering collection, reconciliation, processing and reporting of cryptocurrency and other digital assets.
UBS Group's prime brokerage unit reportedly started to offer clearing and settlement of crypto ETPs to limited number of clients, operating pilot scheme to be reviewed internally ahead of planned wider rollout later in year.
Stone Ridge Asset Management filed new prospectus with SEC to add Bitcoin to its open-end mutual fund. Prospectus for Stone Ridge Bitcoin Strategy Fund seeks exposure to Bitcoin via futures markets as opposed to spot purchases, similar to NYDIG Bitcoin Strategy Fund II.
Tesla reported no new sales or purchases of digital assets and that company holds $1.3 billion in Bitcoin, according to Q2 earnings presentation. Tesla also reported $23 million impairment on Bitcoin holdings.
Amazon flatly denied report they're planning to accept Bitcoin payments by end of year. Claims by unnamed sources stated Amazon would introduce 8 cryptocurrencies onto their platform as accepted payment options as well as company working on their own digital coin. 
Goldman Sachs filed application with SEC for ETF that would offer exposure to public companies in decentralized finance and blockchain around the world. Filing noted Goldman Sachs Innovate DeFi and Blockchain Equity ETF would invest at least 80% of assets into companies that advance blockchain technology and digitization of finance.
Galaxy Digital announced launch of fund of fund that will invest $33 million across several venture funds in cryptocurrency market with backing from Franklin Templeton, one firm Galaxy confirmed as participating in raise.
Exchanges
Number of crypto users doubled in first half of 2021, according to Crypto.com, identifying more than 220 million users of crypto by end of June. Company said it used on-chain data and other parameters to compile figures from 24 of largest crypto platforms. 
Changpeng Zhao stated Binance is "looking for someone with a strong regulatory background to step in and be CEO." Zhao said there was no timeline for his succession and that he would not be stepping down right away.
Binance announced it reduced withdrawal limit for Basic Account Verification users. Previous limit of 2 BTC per day was lowered to 0.06 BTC per day for newly registered accounts and existing accounts were to be phased in between August 4 and August 23. Binance

 

also announced leverage trading restrictions on futures platform for consumer protection with 20x limit for users.
FTX has also decided to limit leverage available to users, reducing maximum leverage available on platform down to 20x from previous limit of 101x. Decision was made in light of exchange's efforts to "encourage responsible trading."
Fundraising
Fireblocks raised $310 million in Series D round co-led by Sequoia Capital, Stripes, Spark Capital, Coatue and DRW, at a valuation of $2 billion.
Livepeer, a decentralized video transcoding platform built on Ethereum, raised $20 million in funding round led by DCG, and included participation from Coinbase Ventures, CoinFund and Northzone.
Ascensive Assets raised $130 million fund that will focus on DeFi market. Maiden $24 million fundraise back in 2019 backed likes of Polkaswap, Yield Guild Games and JennyDAO.
Vauld raised $25 million in Series A funding to expand retail crypto banking platform in round led by Valar Ventures, with participation from Pantera Capital and Coinbase Ventures.
Indian cryptocurrency exchange CoinDCX in talks to raise $100 million in funding round led by Eduardo Saverin's B Capital Group, valuing CoinDCX at more than $1 billion. Polychain Capital and Coinbase Ventures also to participate.
Genesis Digital Assets raised $125 million in equity funding to fuel expansion plans in U.S. and Nordic region. Investment led by Kingsway Capital, and Genesis plans to use funding to purchase equipment and build new data centers.
Fintech infrastructure and crypto custody firm Prime Trust raised $64 million Series A led by Mercato Partners' growth equity fund, Traverse. Nationwide, Samsung Next, Kraken Ventures and Seven Peaks Ventures also participated.
Bitcoin rewards company Lolli raised $10 million in Series A funding round led by Acrew Capital to expand company and develop recently launched mobile app with plans to be more active in gaming community.
Eco announced raise of $60 million for cashback-granting digital wallet and stablecoin platform. L Catterton and Activant Capital led round, with participation from Andreessen Horowitz, Lightspeed Venture Partners, LionTree Partners and Valor Equity Partners. 
Defi
Uniswap Labs restricted access to some tokens, including tokenized stocks and derivatives, after regulators' announcement that they would increasingly scrutinize these types of products. Uniswap cited "evolving regulatory landscape" in explaining decision to restrict access to certain tokens through app.uniswap.org."
Things to Watch This Week
Ethereum London Hard Fork 

This week brings us one of the most anticipated events of this summer, the Ethereum London Hard Fork set to go live on August 4. The much-awaited upgrade contains five Ethereum Improvement Proposals introducing changes to the code of Ethereum. Of these improvements, the most well-known is EIP-1559, which is primarily designed to bring down Ethereum's gas fees by introducing a base fee for users to approximate the current fee system along with burning part of the fee. The latter aspect of the proposal is what has the industry most excited, as discussions of "deflationary" Ethereum has likened this event to Bitcoin's halvings, where the block rewards from mining Bitcoin are reduced by half every 4 years. In addition to creating a Bitcoin-like narrative of limited supply to Ethereum, EIP-1559 is expected to improve transaction wait times and remove fee-market uncertainty. Also, the other proposals bundled in the fork introduce key technical upgrades to the code that will enable aspects of Ethereum 2.0, when Ethereum will switch to Proof of Stake versus the current Proof of Work model, to eventually become reality by setting up the framework for future EIPs down the road. The potential of this upgrade will be the focus leading up to the fork, but we'll also be watching the risks that come with any technology upgrade of this magnitude. The largest risk posed by EIP-1559 comes with its proposed reward changes for miners, who face reduced earnings for their role as they will only receive tips from users through an optional "inclusion fee." Additionally, the danger of unforeseen bugs or holes that could lead to some disruption in blockchain activity for projects and users will need to be monitored. Nevertheless, the significance of this milestone, for the future of Ethereum as well as the cryptocurrency industry itself, is something to celebrate and will certainly be worth watching as it unfolds.
Cointelegraph
@Cointelegraph
Young people in Singapore are increasingly adopting cryptocurrency. What are they looking for, besides capitalizing on the generational wealth potential of BTC and other digital assets?
buff.ly/3iMSiI7
Zzz @SplitCapital
Quick thread on banks that offer clients crypto exposure and where the previous friction was: One note: Banks have many many divisions but the one we care about here is their Private Wealth Management (PWM) / Asset Management / Private Bank (all banks have different names) 1/x
One more major point: this is bullish for the sole fact that banks offering these products removes friction for large clients. This much is undeniable. How bullish? That depends (keep reading). 2/x
The PWM division for most banks offer clients that are wealthy (generally $1 – $10 – $50 million) *bespoke* services for their money and abstract away the investing game. The overwhelming majority of the clientele are boomers, used to older forms of investing + savings. 3/x
Ari Paul @AriDavidPaul
Okay crypto industry. Get ready to spend the next 2 years figuring out how to build/launch/operate defi without getting a FATF VASP designation. Current proposal turns basically everyone (including some governance token holders) into possibly legally liable financial entities.
2/ the ugliest parts – devs probably won't be in trouble for writing code…as long as they don't hold tokens associated with their own project at any point or otherwise profit from it.
3/ the trick of using a foundation as intermediary? Probably not gonna cut it. Even random third party holders of governance tokens, however acquired, may be regulated VASPs if they have meaningful voting rights.
4/ we don't know how this rule drafting will play out. We don't know how courts will interpret this. We don't know how enforcement will go. But…pretty sure this will be a big issue over next couple years.
Adam Cochran @adamscochran
1/50 Thoughts on gaming economics, NFTs and the Metaverse.
2/50 Back in early university, I really wanted to go into the gaming industry, and spent a lot of time abscessed with the study of game dynamics. Both the internal economics and player lifecycles.
3/50 (Later in my career I worked for some gaming companies that had tens of millions of players, but, that industry was surprisingly shitty) One thing this has all lead me to think a lot about recently is "The Metaverse" and where I can expect 'good' games to thrive in it.
4/50 The first thing that every game does well is capture a broad spectrum of player types. The earliest model of this was proposed by Richard Bartle (en.wikipedia.org/wiki/Bartle_ta…)
5/50 It basically says that there are four macro player categories along two axis "acting to interacting" and "players to world" That gives you:
-The killers
-The achievers
-The socializers
-The explorers
READ MORE
Daniel  Luca (CleanUnicorn.eth)
@cleanunicorn
A list of 
#EthCC
 talks I find important. 
Obligatory 
@VitalikButerin
 talk
All is good with DeFi, it got us here, but to get further we need to do other stuff.
READ MORE
PlanB
@100trillionUSD
#bitcoin
 .. up and onward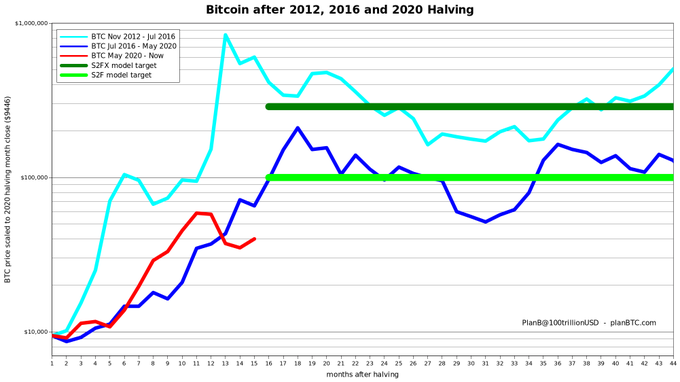 Molly
@bigmagicdao
gm, Defi loans outstanding hit new high. market sentiment recovering,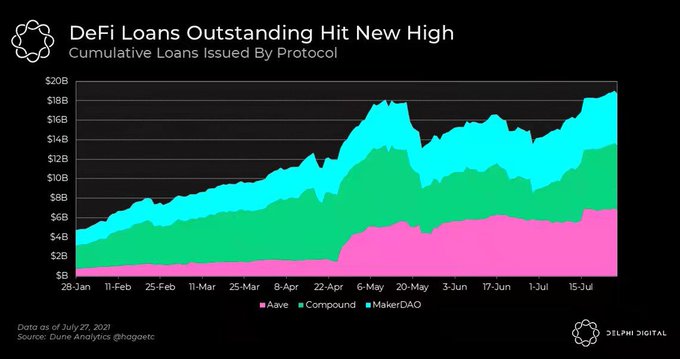 Roberto Talamas
@RobertoTalamas
Ethereum's market share of aggregate TVL has been inching up since May. In the past three months, Ethereum's dominance increased roughly 8%. During the same period of time, 
@BinanceChain
 went from 20% to 8% while 
@0xPolygon
 increased from 1% to 5%.
Source: 
@DefiLlama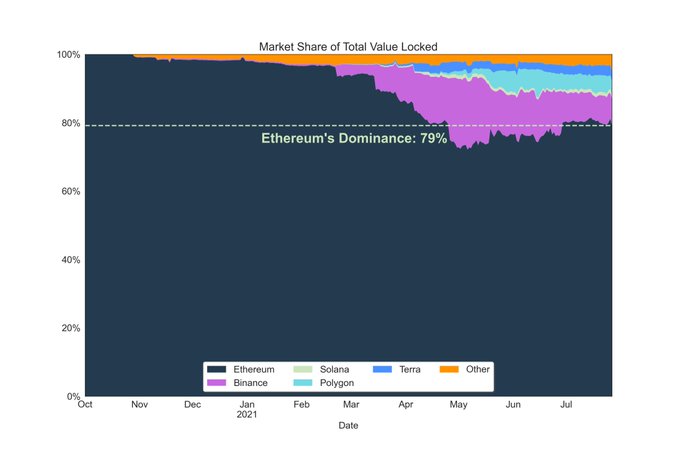 tedtalksmacro@tedtalksmacro
1/ A bullish development for the $CRYPTO space over recent weeks has been that '25-delta skew' has trended lower and is now below 0 for the first time since early May 2021… I'll attempt to briefly explain the significance of this now #BTC
2/ First, let's visualize the #BTC chart and '25-delta skew' chart to show how the two are correlated! When skew peaks, it often leads a #BTC rally, when skew bottoms it often signals a #BTC sell-off… Monitoring skew in early May would have told you that a sell-off was near
3/ What the hell is '25-delta skew' and why is it important? This metric measures the relative 'expensiveness' of calls (bullish bets) to puts (bearish bets) – a reading above 0 indicates demand for puts (bearish), the opposite is also true!
READ MORE
Peter Brandt
@PeterLBrandt
What do these dates have in common? May 19, 20, 21, 24, 25, 26, 27 June 14, 15, 16 Jul 26, 28, 29 Days during which the supply of Bitcoin at the ~40,000 rejected any further advances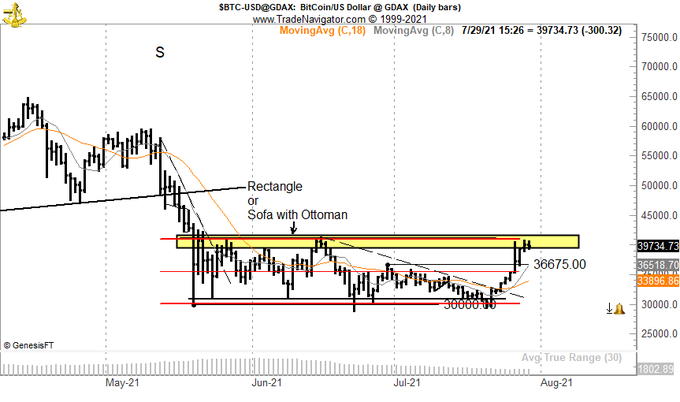 DCinvΞstor @iamDCinvestor
when the holders of some very valuable NFTs are already wealthy from other assets, they don't need to sell their canon-grade NFTs for cash indeed, they may not want to sell them at all bc they don't have a better spot for the money
this can drive prices to astronomical levels
my long-term thesis with NFTs is that eventually, such NFTs of historical importance and universally-agreed upon value eventually find their way into the diamond-hands of such collectors float will remain extremely low because they have no reason to sell
Philip Gradwell @philip_gradwell
I'm back writing my Market Intel Report after a July break! This week I explain that when 75% of absolute price gains occur in 25% of the days that price goes up, you have to think in phases of the market and the price floor & ceiling of the phase
Read @ markets.chainalysis.com/reports/2021-0…
I shared this chart earlier this week, but the on-chain price floor beats technical analysis, as it is a leading indicator of a decline in demand – measuring actual investor behaviour – rather than a lagging indicator such as a moving average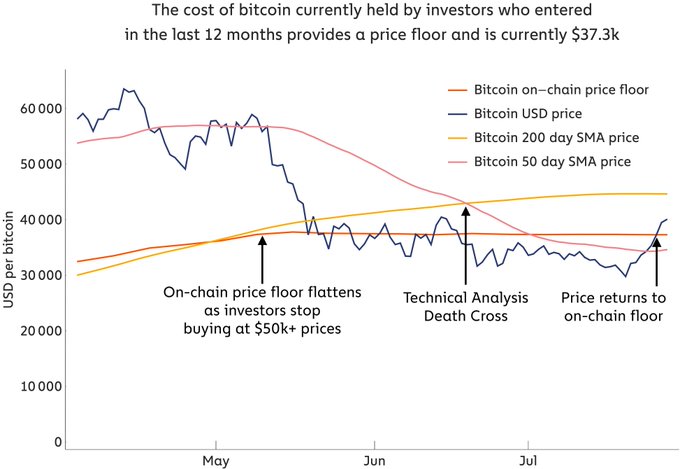 Thinking about the market this way suggests that the current bitcoin market is at least in a sideways state and unlikely to enter an extreme price fall phase, with a price floor at $37k, investor whale holdings back to mid-May levels, and supply liquidity back to December levels
Regan Bozman
@reganbozman
We just published the 
@dovemetrics
 H1 Fundraising Report
docsend.com/view/r8xby5dkq…
Data from 1000+ rounds  
Fundraising trends  
Raises across sectors
 Insights from leading investors
Robert Leshner
@rleshner
DeFi has come so far in the past few years— The primary concern used to be whether autonomous smart contracts could even safely secure assets. Today it's how to take on Wall Street, covered in 
@FortuneMagazine
FORTUNE
  @FortuneMagazine
Move fast and bank stuff: Crypto-based 'DeFi' takes on Wall Street
bit.ly/2WpglFi